Dr. Majid Deobandi
shaped his career as a Writer, Poet and Compare of National repute from 1978. He has participated in hundreds of Literary Mushairas (Poetic Symposia), Conferences and Seminars all over India and other countries. He is a well known and popular figure in Urdu Circle. He has received coverage for his performances in Newspapers, Magazines and many stations of All India Radio and number of channels. It is agreed on all hands that he is one of top most Poets of the Urdu World. He has been working in Jamia Millia Islamia University, New Delhi since 1991 till February, 2015. After completion of services of 24 years, he has taken V.R.S from his service. He has received many awards. He has written songs in a new Film of Director Suhaib Ilyasi. The Film name is Ghar Waapsi. A short line of his bio data is given below:
NAME
:
M. MAJID SIDDIQUI
PAN NAME
:
DR. MAJID DEOBANDI
FATHER'S NAME
:
(L) M ZAHID SIDDIQUI
DATE OF BIRTH
:
7th July, 1964
PLACE OF BIRTH
:
Deoband (U.P)
RESIDENCE (Delhi)
:
S-3/24, Meezan Road, Jogabai,
Jamia Nagar, New Delhi-110025
RESIDENCE (Deoband)
:
Barey Bhaiyan Street,
Deoband-247554
Distt. Saharanpur (U.P.)
WEBSITE
:
www.majiddeobandi.in
E MAIL ADDRESSES
:
drmajiddeobandi@yahoo.com
mail@majiddeobandi.in
TELEPHONE NUMBERS (Delhi)
:
9810859786 (M)
9968269786 (M)
EDUCATIONAL QUALIFICATION
:
M.A. (Urdu)
Ph.D.
Dr. Majid Deobandi
was born on 7th July, 1964 at the time of Tahajjud prayer (Monday) on the day of Eid, in a reputed and religious family of Deoband. His great grandfather Peerji Shamsuddin was a great saint of his era who shunned the worldly life and spent his days in jungles praying and meditation. His father had treasured up thousands of Urdu and Persian couplets in his memory, which inspired Dr. Majid entered the world of poetry . He passed High School and Intermediate Examination (Science side) from Deoband in 1979 and 1981 respectively. Dr. Majid Deobandi received B.A. and M.A. (Urdu) degrees from Meerut University which top ranks. He was awarded Ph.D degree on his thesis on "Khwaja Hasan Nizami". Dr. Majid took a keen interest in sports and poetry from the initial stage of boyhood. He represented the Deoband College Badminton Team as Captain in various state level tournaments (U.P.) and received many awards. In the age of 12 he composed first couplet and participated in an All India Mushaira at Saharanpur (U.P.) in 1978. He has never look back from that time and his journey in the domain of literature is on. He has participated in Mushairas in various parts of World as an outstanding poet. Not only India but also in Kingdom of Saudia Arabia, Pakistan Dubai, Sharjah, Al'ain, Abu Dhahabi (U.A.E.), Muscat (Oman), Nepal, Kuwait, Behrain, Maritius, Iran and Iraq. He has participated as a promising poet and has conducted Mushairas too. Allama Iqbal is the favorite poet of Majid Deobandi that is why the philosophy of Iqbal, especially Islamic thoughts and and ideology is reflected in his poetry. Dr. Majid Deobandi's poetry is highly in fluenced by Islamic history and he is an established name in the world of literature with regard to the Islamic orientation of his poetry. In 1990, he joined Jamia Millia Islamia University, New Delhi and the Jamia community is proud of his talent and his caliber as he bring laurels of Jamia by representing university in the literary world. For fifteen years he worked as Announcer in All India Radio, New Delhi. He has worked as Urdu News Reader Doordarshan Kendra (India Television) New Delhi for Ten years.
Dr. Majid Deobandi has participated in various Mushairas in nearly all major towns and cities of India. He is the Editor of Urdu monthly magazine "Adabi Meezan" published form New Delhi. The magazine holds respectable in the urdu literary circles of the country. He has presented papers in hundreds of Seminars and Conferences in India. His article and poetry continuously spearing in prominent national Newspapers and Magazines of Urdu. Currently Dr. Majid Deobandi is also writing article which gets published every week in Urdu Daily "Sach Ki Awaz" published from Delhi. He is regarded as one of the front line poets of India who represents the country in the world.
The first collection of Ghazals "Lahoo Lahoo Aankhen" (Urdu) was published in 2000 and received well appreciation by the masses and experts. Many reputed scholars including Prof. Jagannath Azad, Prof. Shamim Hanfi, Prof. Gopichand Narang, Dr. Bashir Badr, Prof. Malikzada Manzoor, Mazhar Imam and Nida Fazli had written reviews on the collection. This book in Hindi has been published in 2007.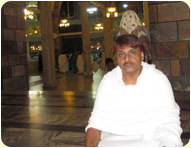 "Zikr e Rasllool" (pbuh) collection of Naa'ts (gencomium on the Hopy Prophet(pbuh) and Hamds (Poem praising Allh) has been published in 2006. Articles and Reviews written Maulana Ubaidullah Azami, Prof. Tanvir Alvi, Prof. Nisar Faruqui, Prof. Abdul Haq, Prof. Muzaffar Hanfi, Prof. Malikzada Manzoor, Majrooh Sultanpuri and Shamim Jaipuri were a part of the collection. Besides this a collection of literary articles written by Dr. Majid Deobandi "Mairi Tehreeren" (My Writings) has been published in 2015. "Jugnoo Bolta Hai" (A Poetry collection) has been published in 2016. A poetry Book 'Shaakh e Dil" has been published in 2011 and in Hindi published 2012. He has received well appreciation by the masses of Hindi lovers. A book named "Khwaja Hasan Nizami:Ek Tehqeeqi Mutalea" has been published in 2007. This book is very important on Khwaja Hasan Nizami's Life and his contribution in urdu literature.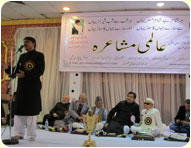 A book of Naat's Poetry named "Wo Mera Nabi Hai" has published in 2018. Very popular personalities of Islam and Scholars has written articles (mazameen). The names are Hazrat Maulana Rabey Hasani Nadvi, President, All India Muslim Personnel Law Board, Hazrat Maulana Kalb e Sadiq, Vice President, All India Muslim Personnel Law Board, Maulana Tauqeer Raza, Chairman, Ittehad Council, Dr. Mufti Mukarram, Shahi Imam, Masjid Fatehpuri, Hazrat Maulana Kaleem Siddiqui, Maulana Mehmood Madani, General Secretary, Jamiat e Ulama e Hind, Prof. Abdul Haq, Professor of Emiratus, Prof. Muzaffar Hanfi, Prof. Aqeel Hashmi, ex Head of the Department of Urdu, Usmani University, Hyderabad and Prof. Ghazi Ilmuddin (Pakistan).
Number of Audio, Video C.D.s of Dr. Majid Deobandi are in the market. Also number of poetry in You Tube Channel are liked by the Lacs of urdu lovers in the world. According the to the finding of a survey no Indian poet other than Dr. majid Deobandi, can claim such large number of audio, video volumes marketed and liked by the people.
Dr. Deobandi feels special attachment towards Islamic religious leaders , Sufis and Saints, whose thoughts are reflected in his poetry. Thus has assumed a distinguishing feature of his poetic pursuits. He has adopted Islamic philosophy and themes of his unity and integration of Millat as inseparable themes of his poetry. He is the heart beat of all those who have Islamic orientation and who believe in Islamic thoughts and ideas. He is the youngest India Poet who has received such high honours and admiration throughout the world. He has experimented in all the genres of poetry including Hamd, Naa't, Manqabats, (eulogy of the Holy prophet's companions or relations), Marsiyas (elegy commemorating Hazrat Imam Husain's martyrdom), Salam (compliments) and Qasidah (encomium ode).
The following couplet is very popular and has become his identity:
Allah mere rizq ki barkat na chali jaaye
Do roz se ghar men koi mehman naheen hai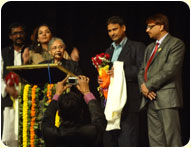 Many of his couplets throw light on his firm Islamic faith and thinking, which prove his credentials as a true and steadfast Muslim. He is the only Indian poet who was awarded the President Award at the age of 29 by President of India Dr. Shankar Dayal Sharma in 1993.
The other awards which he received include:
President award 1993 for Urdu Poetry
Abul Kalam Aazad Urdu Poetry Award 1995
Urdu Poetry Award 1996
Nai Aawaz Urdu Poetry Award 1996
Rajiv Gandhi Urdu Poetry Award 1997
Mirza Ghalib Urdu Poetry Award 1998
Tasmia Urdu Poetry Award 1999
Faza Ibn-e-Faizi Urdu Poetry Award 2000
Uttar Pradesh Urdu Academy Award 2000
Best Urdu Poet Award 2001
Aziz Barabankwi Naatia Award 2001
Best Urdu Poetry Award 2001
Aaina-e-Haq Urdu Poetry Award 2002
Afaq-e-Urdu Award 2002
Kaifi Aazmi Urdu Peotry Award 2005
Urdu Sabha Peotry Award 2005
Raashid Masood Urdu Poetry Award 2006
Fakhr-e-Deoband Award 2006
Kamal Madrasi Urdu Peotry Award 2006
Allama Iqbal Urdu Poetry Award 2007
Maulana Mohd. Ali Jauhar Urdu Poetry Award 2008
Appreciation Award 2009
Speaker Abdul Shakoor Award 2010
Waqaarul Mulk Award 2010
Appreciation Award 2011
Farogh e Urdu Award 2013
Adabi Khidmaat Award 2013
National Harmony Poetry Award 2013
Aabroo-e-Ghazal Award 2013
Fakhr e Urdu Poetry Award 2015
Fakhr e Urdu Adab Award 2015
Shikhar Urdu Poetry Award 2015
Maulana Haali Urdu Poetry Award 2015
Fakhr e Shair o Adab Award 2015
Nishaan e Yadgaar Poetry Award 2016
Dr. Anjum Jamali Poetry Award 2016
Best Urdu Poet Award 2016
Quami Yakjehti Poetry Award 2016
Hafeez Meeruthi Urdu Poetry Award 2016
Akshara Sahitya Samman 2017
Mahanand Mishr Memorial Award 2017
Waqaar e Deoband (Pride of Deoband) 2017
Fakhr e Urdu Adab Award 2017
National Unity Poetry Award 2018
Paasbaan e Adab Award 2018
Fikr e Iqbal Poetry Award 2018
Farogh e Urdu Award 2019
Majrooh Sultanpuri Adabi Khidmaat Award 2019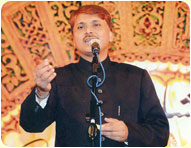 Mr. Inder Kumar Gujral and Dr. Manmohan Singh, Prime Ministers of India also awarded Dr. Majid Deobandi for his literary excellence and services. Dr. Majid Deobandi is famous as today's Iqbal in the world for his Islamic Poetry.
Dr. Majid is associated with a number of literary and cultural organizations of Delhi which are striving for the promotion and development of Urdu language. He is the Secretary General "Meezan" (A Literary and Cultural Society of Delhi) which has been striving for the advancement of Urdu since 1990.The Society organizes Seminars and Mushairas on various occasions. He is a Secretary General of Naa't Council of India, the organization organizes Seminars regarding the life of prophet (pbuh) and Naatia Mushairas in the country. He is an Editor of Urdu Daily "Adabi Meezan" published from Jamia Nagar, New Delhi.
He was Asstt. Editor of an urdu Quarterly Magazine
"Tadress Nama"
from Jamia Millia Islamia, New Delhi till 2015. Dr. Majid Deobandi founder President of All India Minority Education Trust (Regd.), New Delhi. He was Vice Chairman, Urdu Academy, Government of N.C.T. of Delhi for three year. He was a Member, National Monitoring Committee for Minorities Education, Govt. of India. He is a Founder Chairman, International Sufi Mission, New Delhi-110025. He is a Member, India Islamic Culture Centre (IICC), New Delhi. Also He is a Member, India International Centre (IIC), New Delhi. Dr. Majid Deobandi is a Patron, of an Urdu daily
"Qaumi Meezan"
published from New Delhi-110025. currently Dr. Majid Deobandi is writing article/column for Urdu Daily
"Sach Ki Awaz"
pubished from New Delhi every week on Tuesday edition from August, 2018. He has Worked as a Casual Announcer in E.S.D. (Urdu Service), All India Radio, New Delhi from 1983 to 2002. also He has Worked as a Production Assistant in E.S.D. (Urdu Service), All India Radio, New Delhi for ten years. He has also Worked as News Reader in Doordarshan Kendra (Indian Television) Delhi for 10 years.
A student from Meerut University have completed a chapter of his Ph. D and another student from Lahore University (Pakistan) is currently completed M. Phil on Dr. Majid Deobandi.
He is a Founder President of All India Minority Education Trust (Regd.), New Delhi-110025.